Posted by
greg
in
Advocacy
, tags:
bike lanes
,
bike law enforcement
,
north harvard ave
,
parking violation
At today's A-B Bikes meeting, Chris told me she spotted three cars with parking violation tickets on North Harvard Ave, which, in case you haven't heard, was freshly repaved, repainted with bike lanes, and marked with no standing signs: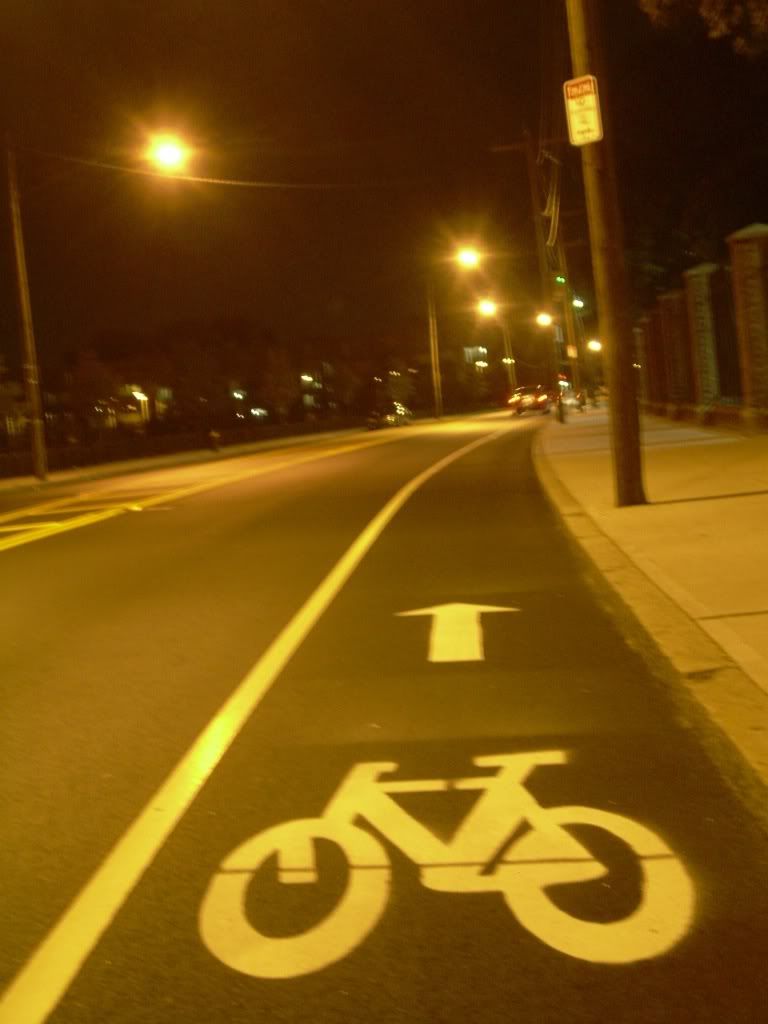 I was a bit skeptical of what Chris told me she saw, since I had yet to see any car ticketed for parking in a bike lane in Boston, let alone North Harvard Ave. where the bike lane's been used as a constant parking lane since its existence, (though I have seen cops whisk away drivers parked in the Comm Ave. bike lane) so I decided to check it out myself. Upon arrival, I found two cars parked in the bike lane: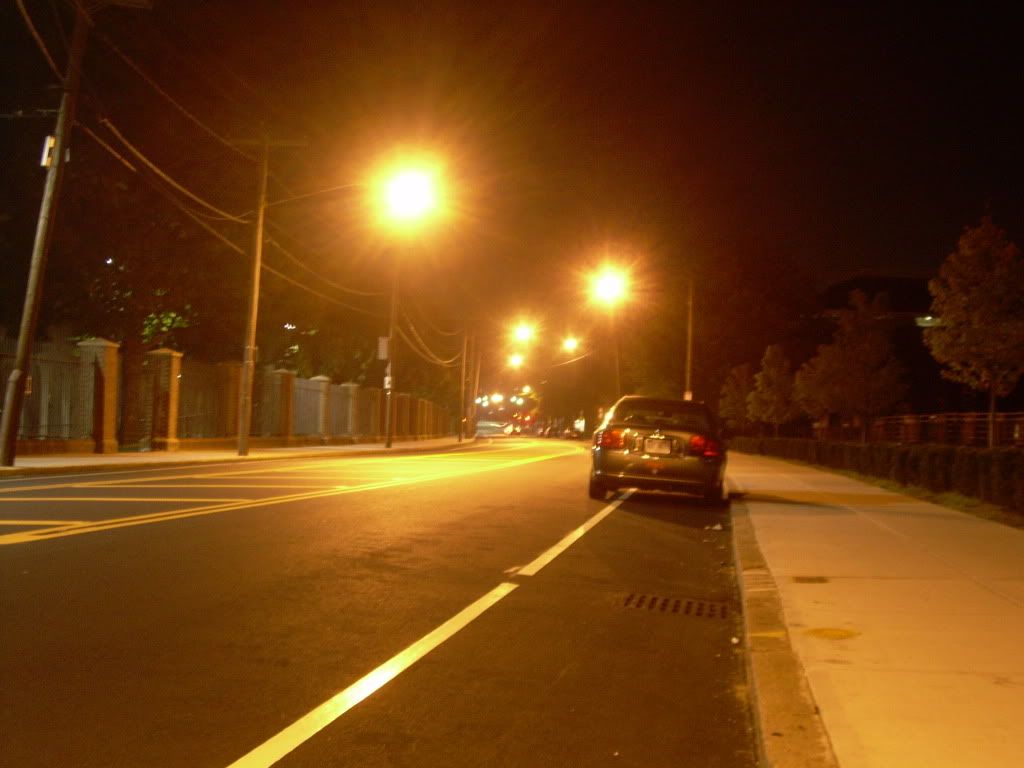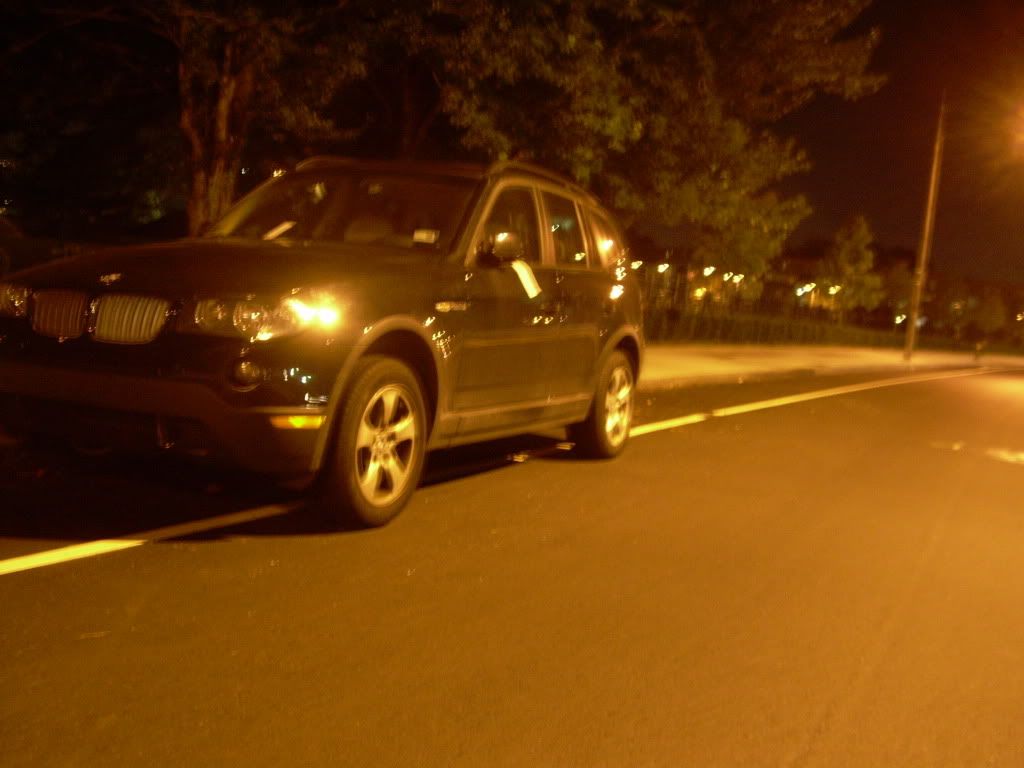 I was surprised to see two tickets affixed to each vehicle; one orange ticket under the wiper and one white ticket shoved on the outside of the driver's window.
Upon further inspection, this is what the white ticket said: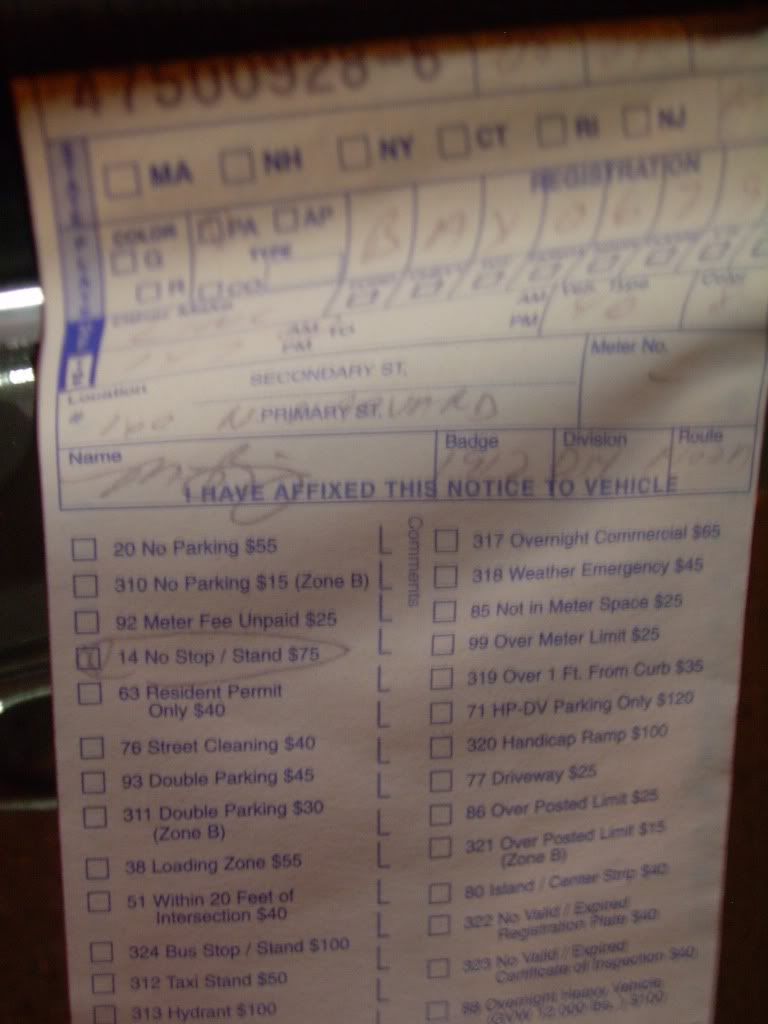 It was indeed an official City of Boston violation citing a $75 fine for parking in a no standing zone. Hmm, the new bike ordinance states a $100 fine for parking in a bike lane. They must have not updated the tickets yet. So if this was the actual violation ticket, then what was the orange ticket? Whipping around to the windshield, this is what I found: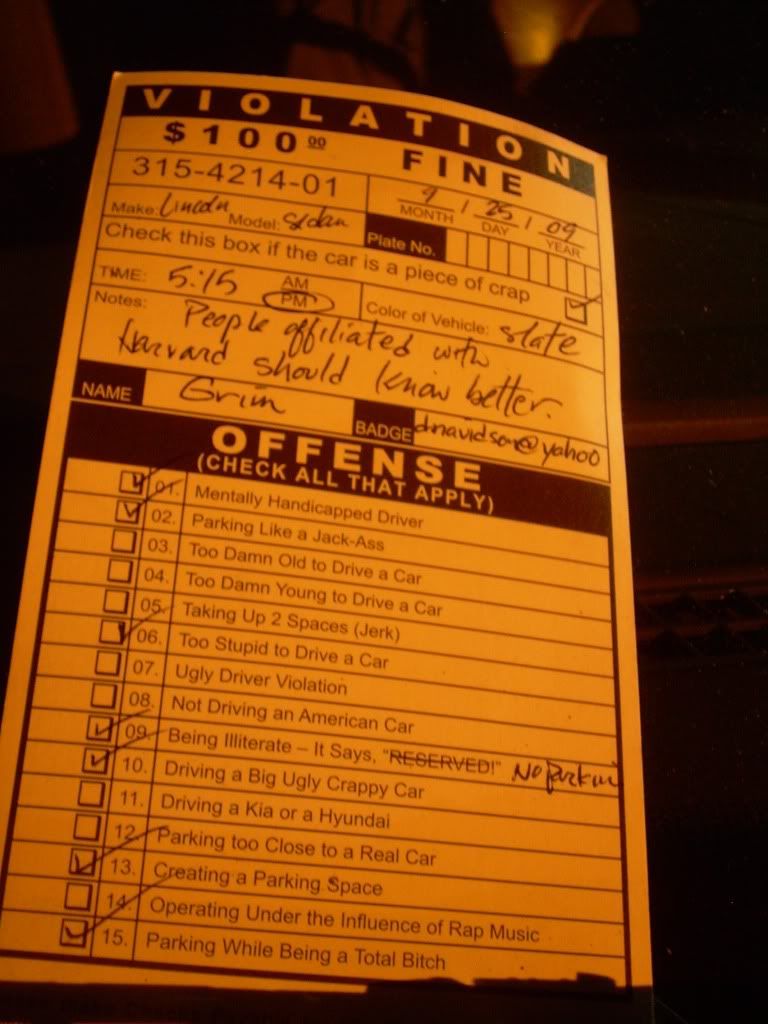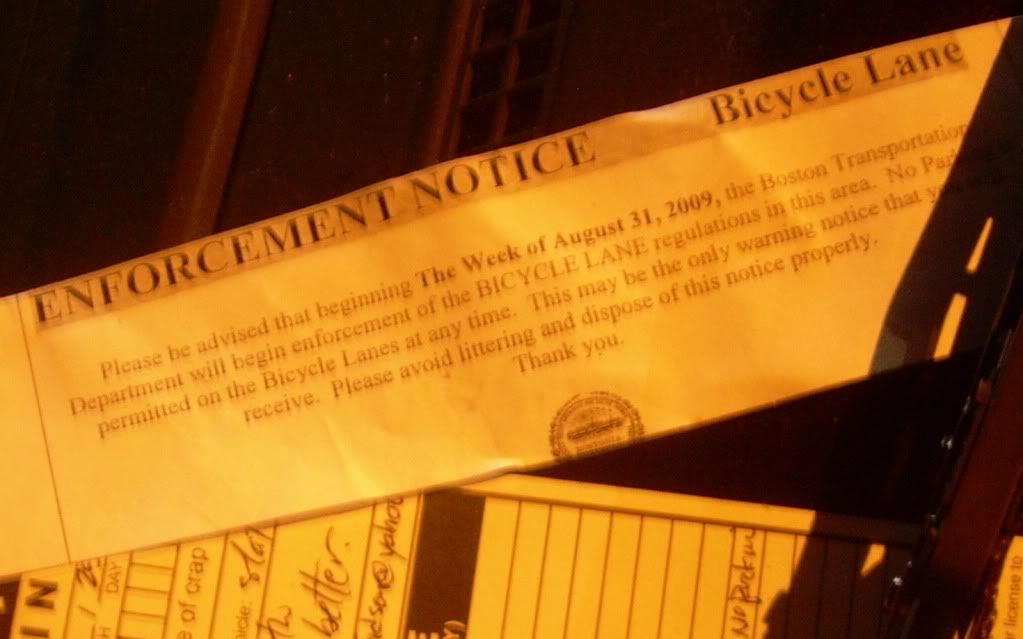 A fake parking violation ticket with a sense of humor! I've seen this idea on the internet before but never in action.
The note was definitely a nice, informative touch. And In case you're wondering, the Lincoln did have a nice big Harvard U bumper sticker in the rear.
Speaking of fake parking tickets, I'm a fan of NYC-based Times-Up's Bike Lane Liberation Clown Brigade, a ride that dresses up as clowns before giving out fake tickets:

So props to both the rogue biketivist for the awesome fake ticket (As far as I know, whoever wrote it wasn't a BU/A-B biker) and BPD for actually being on top of writing parking violations with the addition of the bike lanes. We've seen a lot of skeptical feedback about enforcement of the new ordinance, but hopefully what I saw tonight is indicative of what's more to come.
Update: It seems we have a very likely suspect for the "rogue biketivist" leaving fake parking tickets on cars parked in the North Harvard Ave bike lane: fellow Bostonbiker blogger Zero Combustion, who has not only been ranting about the bike lanes all summer, but yesterday actually mentioned wanting to leave fake tickets herself. The tickets she bought online match what I saw last night. Though at $4.99 per fake ticket, handing out more will likely be a very costly endeavor.
And thanks m2mayer for pointing this out.

Update 2: yeah, it was Zero Combustion. And apparently you can buy 100 packs of those tickets on Amazon for $15.